---
Virginia Palmer, our "Ginny", was an extraordinary woman who showed all of us the importance of genuine commitment to the causes we believe in.  Ginny modeled active engagement in and generous support of AAUW.  She mentored us to serve others as passionately as she did, especially in developing educational and economic opportunities for women and girls.  Ginny represented in the truest way the spirit of AAUW.  With Ginny's generous contribution, and in her honor, we established this memorial scholarship.
The goal of the Virginia Palmer Memorial Scholarship (VPMS) is to support women who are transitioning back into education to fulfill personal and career goals.  The VPMS provides the recipient with $500 a semester towards tuition, books and fees.  The VPMS is renewable, depending on recipients meeting scholarship requirements.
AAUW Tucson Branch collaborates with Pima Community College (PCC) through Cheryl House, CFRE, Assistant Vice Chancellor, PCC, in seeking qualified applicants for this scholarship.
We are pleased to announce we have made two selections for the VPMS at Pima Community College, Spring 2014.  These recipients are:  Michelle Bowman, Nursing major, and Melanie Gunningham, Business Management major.
Michelle is a single parent, working mother, and student at Pima Community College.  Michelle was eleven years old when she lost both her parents.  She completed school and went on to serve in the Army.  She worked as an Apache helicopter mechanic.  She advised that her service taught her discipline, and gave her the opportunity to go on to school.  She received an Associate's degree, Legal Assistant, then worked as a legal assistant, but soon found a different and more fulfilling vocation as an LPN.  Michelle would like to continue providing medical service and views that a Registered Nurse could do more and is a needed vocation for the community.  Thus, her education goal is to get her RN degree and "be the best RN out there!"
Melanie Gunningham is a working mother and student at Pima Community College.  She advised that her business experience showed her that going back to school would allow her the opportunity to expand her knowledge and leadership skills for a better business position.   Melanie also advised that returning to school, working and taking care of a household and family are time management skills needed.
We wish our two scholarship winners success with their education and careers!
Many thanks to our VPMS selecting team for their time and patience with the latest process of reviewing the applications "Online" and interviews.  The volunteer team is:   Karen Kelter, Connie Harrison, and Carol Dow.
Our gratitude also to Cheryl House, CFRE,  Executive Director, PCC Foundation, and Margie Torres, whose help in putting this all together saved us a lot of wear and tear.
>>AAUW-TUS members, please save the date:  Saturday, March 29, 2014 for the Virginia Palmer Memorial Scholarship High Tea.  Karen Kelter, VPMS Chair will be in touch with members, soon.
By Nieves M. Miljure AAUW-TUS Co-President
---
AAUW Tucson Branch is proud to announce that we awarded three $500.00 scholarships for Pima Community College Spring 2015 Semester. The three scholars are: Monica Lujan, Social Services major; Michelle Walker, Respiratory Therapist major; and, Rachel Gahan, Respiratory Therapist major.
Each of our new scholars have come back to school, and have definite and strong education goals. We wish our three scholarship winners success with their education and careers! Our new and past VPMS scholarship winners are invited to attend our VPMS High Tea to celebrate their scholastic accomplishments. The Tea is also to thank the contributors for these scholarships; especially recognizing our dear Virginia "Ginny" Palmer.
Many thanks to our VPMS selecting team for their time and patience, and using the latest process of reviewing the applications "Online" and interviews. Our VPMS volunteer team is: Connie Harrison, Carol Dow, Nancy Woodling, and honorable mention to Ardis Niemann Noonan.
Our gratitude also to Cheryl House, CFRE, Executive Director, PCC Foundation, and Margie Torres, whose help in putting this all together saved us a lot of wear and tear.
>>AAUW-TUS members, please save the date: Saturday, April 25, 2015 for the Virginia Palmer Memorial Scholarship High Tea. Scheduled time is: 12 noon to 3 pm. Many thanks to Martha Hickman for securing the Far Horizons East Clubhouse again for the tea. We will soon send out more information to members on our website.
By Nieves M. Miljure AAUW-TUS Co-President
International Interests Discussion Group
This interest group of AAUW meets monthly from September-May, usually on the third Monday morning of the month. Members rotate leading the conversations, sometimes featuring guest speakers. We discuss topics ranging from the latest overseas trips of our members, to issues currently in the news, to aspects of the international community here in Tucson. Moreover, beginning in January of each year we incorporate the 8 sessions of Great Decisions, a national discussion series sponsored by the nonpartisan Foreign Policy Association of the United States. At the annual "kick-off" luncheon, participants as well as members of the public can purchase the Great Decisions guidebook, a detailed profile of the topics chosen by the editors for the current year; then each topic's leader can supplement the guidebook with articles, videos, speakers, etc. We welcome the challenge of pursuing AAUW's goals in the context of the international scene.
For more information contact Shirley Muney at smuney2k@yahoo.com.
---
'PAY IT FORWARD FOR EDUCATION!' A VOLUNTEER OPPORTUNITY!
Did you experience an outstanding teacher or school program as a student, as a parent/grandparent of a student, or have you encountered one in your contact with local schools today? If so, please join us in our new AAUW-Arizona Education Initiative as we "pay it forward for education."
As you recall your experiences with excellent teachers and public school programs throughout your lifetime, please consider acknowledging that excellence by interviewing and writing up one or more current stories of "public school secrets." Of course, they are not really secrets but rather stories which are not widely publicized and do not match the prevailing media and political rhetoric of public schools failing students.
Choose a teacher or program you would like to highlight or volunteer for an assigned interview, then write up and submit the narrative. You may choose to do one or more interviews. We have the basic questions to guide your gathering of information. And, we can help you identify teachers or programs if you want. We do need to have stories representative of instruction at all grade levels, size of schools, subject matter areas within the regular school curriculum, extra-curricular activities and intervention programs. The focus of our study will be the public district schools. Any charter school included will need to meet the criteria of citizen elected school boards, open board meetings, budget transparency including open purchasing policies, open enrollment (i.e. no requirements/restrictions for enrollment), and adherence to state curriculum and teacher certification standards.
If you will supply the collection manpower, our branch and AAUW-AZ can help to correct the narrative and tell the stories of quality public education. We can all have a positive experience while joining our voices together to correct the narrative. Help change what is happening in funding of public schools in the state and "pay it forward" for all of Arizona's children.
For more information or to volunteer contact……
Connie Harrison (connie2425@cox.net)
Francine Schacter (francine@skilfor.com)
---
Lilly Ledbetter: Equal Pay Day & Happy Birthday Celebration
April 14, 2015
Phoenix City Hall
Mayor Greg Stanton
(time to be announced)
Renaissance Phoenix Downtown
Keynote: Lilly Ledbetter
11:30 AM – 1:30 PM
Lilly Ledbetter will join AAUW of Arizona, the Phoenix Women's Commission and other equal pay advocates to celebrate Equal Pay Day 2015. April 14 is Lilly's birthday as well.
On the same day that President Obama on April 8, 2014, signed the two executive orders to increase pay protections for women in federal operations and settings, Mayor Greg Stanton requested that Councilwoman Kate Gallego form a working group – the Equal Pay Committee- to evaluate the City of Phoenix's policies and to provide recommendations to ensure equal pay for equal work.
Jean Johnson, AAUW of Arizona Equal Pay Advocate, has served as one of three community members on the Equal Pay Committee along with representatives from the City of Phoenix, Mayor Stanton's, the City Council's and the City Manager's offices, and from Equal Opportunity, Law, Human Resources, Procurement and the Fire Department. Jean has collaborated with AAUW National staff Kate Farrar, Deborah Swerdlow, Lisa Maatz and relied on the research document, "The Simple Truth About the Gender Pay Gap" led by Dr. Catherine Hill, to inform her advocacy and participation.
The current proposed amendments incorporate three of the four AAUW advocacy positions: prohibition of retaliation against individuals who discuss salaries, and training, both through human relations and salary negotiation. Although the Human Relations Department of the City of Phoenix conducts an ongoing internal audit regarding equal pay, the group failed to muster support for audits and citywide data collection regarding pay equity.
The Phoenix Women's Commission has approved the recommended amendments. The City Council is scheduled to vote on the changes February 24, 2015 at which time the Mayor's office will issue formal press releases to the public. In the meantime, AAUW of Arizona is staging the equal pay day event, featuring Lilly.
Registration forms for the luncheon are coming soon. The anticipated price of the tickets is $100. In addition to paying for the venue and the lunch, proceeds from the luncheon are to pay for Lilly's speaking fee that is now negotiated through an agent.
Recall that in the Supreme Court decision, the justices agreed that Lilly had been discriminated against, but because she failed to meet the time line of filing suit within six months of the first discrepancy in pay, her claim was denied, thus denying her any compensation. Lilly is currently dependent on speaking fees for income.
Linda Hallman, CEO, and Kathryn Braeman, Board of Directors Liaison, will represent AAUW National at the Lilly Ledbetter: Equal Pay Day and Happy Birthday Celebration.
For further information, please contact:
Jane Adrian
President
AAUW of Arizona
480-275-4040
480-710-0353
---
Tucson Branch Annual Business Meeting
April 11, 2015
Not to be missed!!!!!!!!!!!!!!
The Tucson Branch annual business meeting and luncheon will be held at Pastiche Restaurant, 3025 N. Campbell, on Saturday, April 11, from 11:30 a.m. to 1:30 p.m.
In addition to electing new officers and taking care of other business, our guest speaker is Julie Brogna, Co-President of Care Coordinators, Inc. Julie has been owner of this business for several years. The title of her presentation is: "Taking Care of Business." She will speak about health care and financial concerns for persons of all ages who need such assistance. A relevant topic for all!
There are three options at pastiche for a main course: (1) baby greens salad with green apples; (2) voodoo cajun pasta with grilled chicken, shrimp, and sausage;
(3) BLT plus, on sourdough bread. Also included is a beverage of your choice, and "afterglow", Pastiche's dessert platter.
The cost of the luncheon is $25.00.
Please mail your check, with your choice of entree, to Lois Runyon no later than Thursday, April 9. Lois's address is: 12301 East Gold Pan Place, Tucson, AZ 85749.
For any questions, please contact program chair Jeanne Clarke at 742-7493.
We look forward to seeing you at this attractive venue and important meeting!
---
Legislative Day
February 25, 2015
For carpool info please contact Shirley Muney smuney2k@yahoo.com (326-3018) or Nieves Miljure luvuwylie@hotmail.com (396-4544).
Hi all,
Sorry to take so long to get this to you but I was trying to make it as complete as possible. The attached is the agenda for our program. As to the coffee in the morning, please feel free to invite guests to come, especially ones we won't be meeting with during the day or contact me and I will send them an invitation. I already have received requests to invite Dr. Eric Meyer, Rep. Victoria Steels, Senator Katie Hobbs, and Rep. Lela Alston. In addition, there are others associated with the LWV, The Jewish Federation, and United Methodist Women who have been collaborating with us in getting the Human trafficking bill passed, that will be invited.
Please remind everyone to wear TEAL and their AAUW name tags and let me know the number coming from your branches by February 18th. This can be a rough number and anyone can come at the last minute. It just gives me some idea of how many to expect for coffee and rolls. I have found out there is a food court nearby and a sandwich store downstairs at the capitol for those who wish to buy their lunch. Thanks for all your hard work and I will send out additional information as we get closer to the date.
Sharon Hettick
AAUW of Arizona
State Public Policy Chair

---
AAUW Tucson Branch will hold its January meeting on January 10, 2015 at Old Pueblo Grille, 60 N. Alvernon Way, Tucson, AZ 85711 from 11:30am-1:30pm. There will be a short meeting followed by lunch. We are delighted to announce that Jane Adrian, AAUW State President, will be the featured speaker. The topic, "AAUW of Arizona: Choosing Today for Tomorrow", will be audience-inclusive and conversational in presentation. AAUW Tucson Branch extends an invitation to members from other state branches to join us as we celebrate the New Year 2015 and discuss how decision-making today affects AAUW actions of tomorrow. For further information, lunch choice and cost contact VP for Program, Jeanne Clarke at jnclarke@email.arizona.edu.
---
Deni Seymour, Archeologist, Tells AAUW-Tucson to Ignore Glass Ceiling:
Build Your Own Ediface
By Carol Dow, Past President, AAUW-Tucson
Noted archeologist Deni Seymour addressed the Tucson Branch November 15, recounting her experiences hitting the glass ceiling. She received her PhD and MA in Anthropology from the University of Arizona in 1990 and her Bachelor's degrees with honors in both Anthropology and Environmental Studies from the University of California, Santa Cruz in 1980. She has taught, was employed by a number of state and federal agencies, and has worked for a number of cultural resource management firms, including one she founded and directed. Deni is now a full-time research archaeologist affiliated with two academic institutions and the nonprofit research group Jornada Research Institute and she serves on the boards of two non-profit organizations.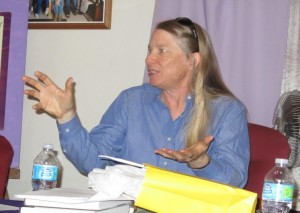 Because of the variety of her work experience, she experienced most of the obstacles women face in the work environment. Deni attributed her success to dogged persistence to have access to the ability to succeed. Women come across as aggressive when asking for a raise or directing men—or women—on the job. Admirable traits of women leaders are labeled as "bossy." When women try to be assertive, they are called "aggressive" and "inappropriate." Deni's refusal to accept a woman's traditional role and the manufactured faults and name-calling thrown her way resulted in her forming her own company and getting all the contracts.
When Deni retired at 44, she began writing. She was surprised at the disrespect for retirees among researchers. She finds that acquiescing to conventional wisdom leads to "truths" that are not necessarily reality, citing her own discovery that Apaches lived in Southern Arizona far earlier (1300's) than generally accepted scholarship had indicated. Adding examples of whom or what we tolerate as a culture, Deni encouraged us to move beyond power relations, citing Sir Edmund Hillary: "It is not the mountain we conquer but ourselves."
---
THE TUCSON BRANCH OF AAUW CELEBRATES THE ARTS IN OCTOBER!
By Jeanne Clarke, Tucson Branch Program Chair
Our October Branch Meeting was special, as we met on the 23rd at The Jane Hamilton Fine Art Gallery in Tucson. Jane and her daughter, Sarah, graciously hosted the meeting, which included refreshments, an opportunity to view her wonderful art collection, and hear a short talk from Jane about her success as an art dealer. She started out many years ago with a small gallery in Bisbee, Arizona. From there she moved to a location in Tucson, and then to a very beautiful location in the Tucson Foothills. While doing all of this, she also raised five children on her own!
It was a lovely event, and was part of our "To the Top" themed series of branch meetings this year. We are focusing on women who have been successful in their chosen fields, and how they did so!
---
AAUW Tucson Branch Membership Recruitment
October 2014 and February 2015 will be recruitment activity months for AAUW Tucson Branch. In place of membership meetings and luncheons, events will be planned at venues and times chosen to attract new membership. All members are encouraged to attend and invite prospective new members to these events. AAUW national offers an incentive program, SHAPE THE FUTURE, through which new members, signing up on the spot, pay only 50% of national dues ($24.50) for their first year. As well, the branch benefits because for every 2 new members applying through this program, the branch receives 1 free national membership (up to a total of 5 per fiscal year) to be used in any way the branch chooses (a give-away, a raffle, a thank you to a volunteer……). ALL members are RECRUITERS! Just ask the VP for Membership, the Treasurer or the co-Presidents for information and the necessary application form! The SHAPE THE FUTURE program works at any AAUW Tucson Branch event that is open to the public!