What's New?
Monthly Luncheon, December 7, 2019
Arizona Inn, 2200 E. Elm St.
The special AAUW holiday celebration at the Arizona Inn, 2200 E. Elm St. will be held on
Saturday, December 7 from 11:00 AM.-1:00 PM.  NOTE:  This event is one week earlier than our regular meeting date because the holiday season is so busy, so ensure you have the correct Saturday on your calendar.                                                                                 You will have the opportunity to visit with friends on a lovely outside terrace from 11-11:30 AM.   Lunch will be served at 11:30 followed by a few announcements and the entertainment.  Ron Lancaster, a member of Teller of Tales, will entertain us with his stories.                           Lunch selection is one of three salads.                        Choices are:                                                                                  1. Shrimp, Avocado, and marinated Tomatoes served over spinach and arugula                            2. Cobb Salad with Avocado, bacon, blue cheese, tomatoes, egg, grilled shredded chicken            3. Sweet chile glazed Salmon Salad with cucumbers, avocadoes, tomatoes, shredded carrots Please email Kay Buckler directly at beanieque@aol.com about your choice and reserve your seat.
There are two ways to pay — Send $20 checks made payable to AAUW Tucson Branch to:  Brantley, 9597 E. Kokopelli Circle, Tucson, AZ 85748 or pay online at http://paypal.me/TucsonAAUWBranch ($21 online)
Not a AAUW Tucson member yet?  Have a guest who wants to join?  Sign up while you are at the luncheon – you will save half on your national dues ($29.50).  This savings pays for your lunch!!!!
---
---
You can be reimbursed by applying to AAUW Arizona for attending the conference.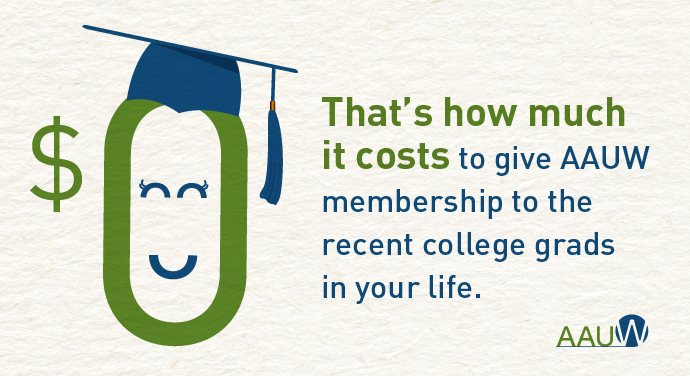 Click Here to Give a Grad a Gift!
The American Association of University Women (AAUW) empowers women and girls through advocacy, education, philanthropy, and research. Our nonpartisan, nonprofit organization has more than 170,000 members and supporters across the United States, as well as 1,000 local branches and 800 college and university partners. Since AAUW's founding in 1881, our members have examined and taken positions on the fundamental issues of the day — educational, social, economic, and political.
AAUW's Mission
AAUW advances equity for women and girls through advocacy, education, philanthropy, and research.
AAUW's Value Promise
By joining AAUW, you belong to a community that breaks through educational and economic barriers so that all women and girls have a fair chance.
AAUW, founded in 1881, is open to all graduates who hold an associate's or higher degree from a regionally accredited college or university. In principle and in practice, AAUW values and seeks a diverse membership. There are no barriers to full participation in the organization on the basis of gender, race, creed, age, sexual orientation, national origin, disability or class.