What's New?
Anna Nygren Regional Conference 2020
Good morning.  Many of you know me as your AZ state president.
Yes, I am a fiery Latina!  What I am going to say in the next few minutes may make you uncomfortable.  It is good for us to be uncomfortable during these times.
There are issues that we, as AAUW, ignore at our peril.  If we continue to ignore them or just give them lip service, we risk becoming irrelevant and, ultimately, just a nice memory or an organization mentioned in our obituaries.
I am talking about "Equity for ALL" and our decline in membership.  These two, by the way, are TOTALLY related!
Arizona is 31% Hispanic.  New Mexico and Colorado are 47% Hispanic.  Nevada is 29%.  Utah is 13%   Wyoming is 10%.
In those states where Hispanics are nearly 1/3 to almost ½ of the population, what efforts are we making to attract them as members?   Oh, I can hear you thinking – THEY are not "educated".  THEY do not have associate or above degrees so they could not be members.  Really?  Are that many people gardeners and maids?  No, many of them have attended colleges and universities and now are young professionals.  We ignore our minority populations at our peril.
For the last two years, I have taught Start Smart in Spanish at the local YWCA of Southern Arizona for its Latina Leadership Institute to help build our partnership with that organization and to benefit these people.  I can tell you that, while teaching SS to students at the University of Arizona is worthwhile, this experience was nothing short of heart-warming.
We need MANY more efforts like this partnership and teaching in Spanish.
What do I mean by equity for ALL?
In a state like Arizona where the quality of education is already at an unacceptable level, what is available in the mostly Hispanic neighborhoods for their children?  While the rich whites send their kids to charter schools and collect my tax money to pay for it, where do the Hispanic children go?  What is happening to Hispanic children during Covid when they do not have the technology and internet connections to keep up at school?  What is going to happen to Hispanic enrollments in our universities as the financial needs of families force Hispanic teens to go to work instead of college because of Covid?
In the fall, we will roll out a statewide initiative to support K – 12 education through local branch efforts.  We will encourage, wherever possible, paying special attention to the needs of the Hispanic community or, as is the case in some of our branch locations, to the needs of Native Americans.  We hope that our efforts will grow over the coming years to bring a measure of equity to education.
We have for far too long maintained AAUW as an exclusive club that caters to a demographic.  I think you know what demographic I am referring to.
Especially with Covid's effect on our communities, we must begin to reach out using technologies to satisfy the needs of our young, working professional women.  Our branches need to become warm and welcoming VIRTUAL spaces for those who do not have time to attend luncheons or book clubs or MORE meetings.
I know that National has efforts underway with its Equity Network.  But I do not know, even as a state president, how this is going to benefit the branches in my state.  Yes, we have some branches that are growing – (example and why).  But we have many branches for whom young people are the only literal means of rejuvenation.   How is Equity Network going to help us attract new members and understand their local needs.
You are discontinuing Give a Grad a gift because it did not have an ROI for national and suggested in one town hall that the affiliates can pay the national dues for these young people.  Really?
I am going to close with a quote from the book DragonQuest by Donita K. Paul:
The general said, "Yes, yes. Urgent, deadly, insidious. The world is in peril and we must rise against evil." The old wizard patted the general on the shoulder. "Tea and cake first, don't you think?"  I hope that we decline the sweets, roll up our sleeves, and get to work.
---

---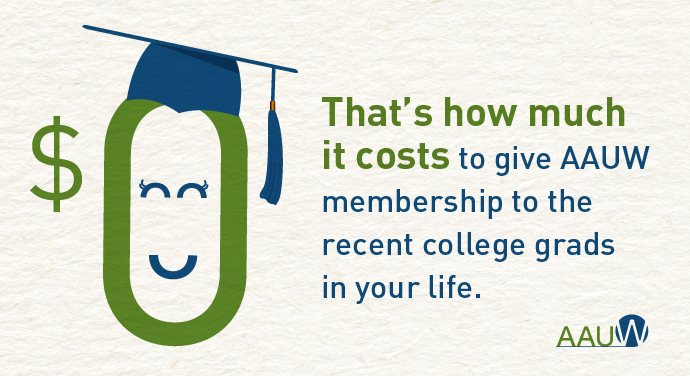 Click Here to Give a Grad a Gift!
The American Association of University Women (AAUW) empowers women and girls through advocacy, education, philanthropy, and research. Our nonpartisan, nonprofit organization has more than 170,000 members and supporters across the United States, as well as 1,000 local branches and 800 college and university partners. Since AAUW's founding in 1881, our members have examined and taken positions on the fundamental issues of the day — educational, social, economic, and political.
AAUW's Mission
AAUW advances equity for women and girls through advocacy, education, philanthropy, and research.
AAUW's Value Promise
By joining AAUW, you belong to a community that breaks through educational and economic barriers so that all women and girls have a fair chance.
AAUW, founded in 1881, is open to all graduates who hold an associate's or higher degree from a regionally accredited college or university. In principle and in practice, AAUW values and seeks a diverse membership. There are no barriers to full participation in the organization on the basis of gender, race, creed, age, sexual orientation, national origin, disability or class.